Best and Easy Healthy Lunch Ideas For 7 days a week
When you're starting your new healthy lifestyle regimen this new year, you may be dreading the prepping and cooking of your meals. However, eating healthy doesn't have to be hard. With a little creativity and setting aside a bit of time each week, you can create healthy meals that are simple to prepare and delicious to enjoy. Not to mention, that a few swaps here and there can make these ideas fitting for just about anyone no matter your food allergy or intolerance. Read below for some tips on how to create healthy lunch ideas for work for 7 days a week.
7 Simple & Healthy Lunch Entrees
A healthy lunch starts with a main dish that is nutrient-dense and filling. Here are some simple and nutritious ideas for healthy lunch entrees and ways you can tweak them to fit just about any food restriction.
1. Sandwich or wrap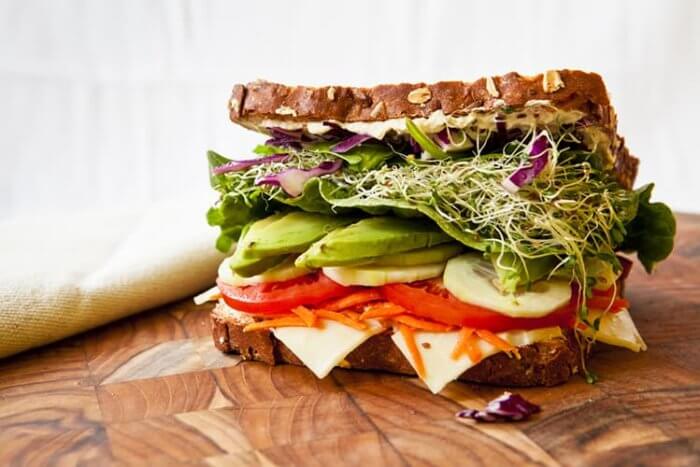 Sandwiches are synonymous with lunch time. However, they can be made for just about any diet type. Whole grain bread or wraps can be used if you're trying to fit in more fiber. If you're gluten-free, try a gluten-free wrap made from rice flour, potato starch, or teff flour, to name a few. Low carb followers can wrap their sandwich creations with lettuce leaves that have been rinsed and patted dry with a paper towel. No matter what sandwich wrap you choose, make sure that the inside of your sandwich contains a protein like chicken, turkey, tuna, egg, or vegetarian options like tofu, tempeh, beans, or high fiber and flavorful whole grains like farro. Also, volumize your sandwich with plenty of veggies for added fiber and antioxidants.
2. Pita creation
The pita may look like another kind of sandwich. But a whole wheat pita can be a fiber-rich pocket for your favorite salads without the need for utensils. From tuna salad and egg salad to your favorite slaw or bean dish, pitas can provide a nutritious vehicle for your protein and veggies.
3. Quinoa salad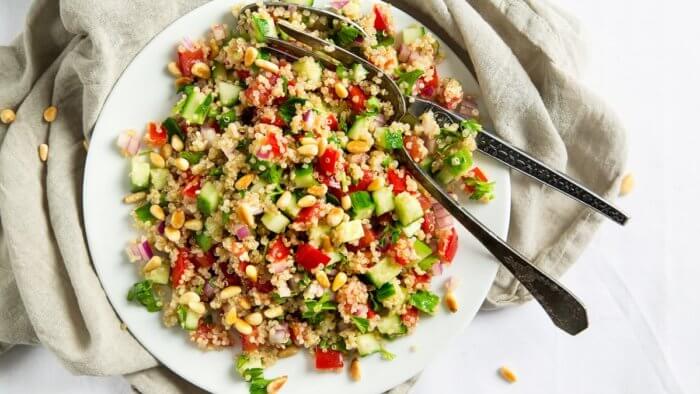 Speaking of protein and fiber, quinoa is a seed that is prepared like grain and contains 8 grams of protein and 5 grams of fiber per cup cooked. It also contains many essential amino acids needed for optimal health, which makes it a nutritious staple for those avoiding meat. However, just about anyone, can enjoy this gluten-free food. Use quinoa as a base for a salad that you can consume cold or hot. These salads may include spinach, black beans, diced cucumbers, tomatoes, nuts, seeds, and/or diced onions and seasoned with simple spices like ground black pepper and sea salt as well as vinegar and olive oil dressing.
4. Mixed greens and protein
To keep it simple, just take a base of your favorite mixed greens and top with your favorite protein. Examples include baby spinach topped with sliced grilled chicken and drizzled with raspberry vinaigrette or chopped romaine topped with feta cheese, olives, and diced tofu or smoked salmon. For those avoiding dairy, use a soy-based cheese with or without diced tempeh or tofu for your protein choice.
5. Whole grain rice or farro bowl
Along the same lines as quinoa, wild rice or farro can add a fiber foundation to any lunch bowl creation you can think of. Load your bowl with steamed or raw veggies and sprinkle in some slivered almonds, chia seeds, or crushed peanuts for little extra healthy fats and fiber.
6. Soup thermos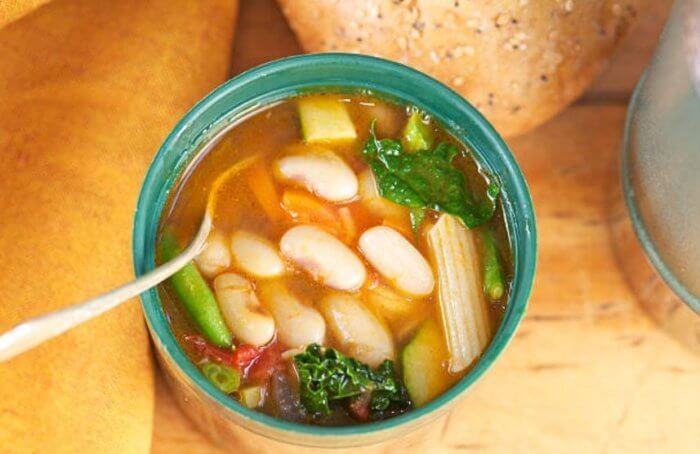 Choose your favorite healthy soup with a vegetable or bouillon base for a lighter calorie load and pour into a thermos for a portable meal. Make sure you choose a soup lower in sodium, ideally 300 milligrams of sodium or less per cup, as well as one with lots of veggies and a protein source of some sort.
7. Leftover creation
 To reduce waste and save time, prepare a little bit extra for dinner the night before. Then, when it comes time to clean up the dinner dishes, pack up a portion of leftover protein and veggies for a quick and balanced lunch entrée option.

7 Simple & Healthy Lunch Sides
Pair your lunch entrée with a side dish or snack that will fill in the nutritional gaps and provide a different profile that will satisfy your taste buds. Here are some healthy lunch side dish ideas to pair with your main lunch dish.
1. Yogurt
Choose a yogurt option with 10 grams of sugar or less for the healthiest choice. For more protein, choose Greek yogurt which can have about twice the amount of protein compared to plain yogurt. Meanwhile, soy-based yogurts can provide a safe choice for those who are lactose intolerant or dairy-free.
2. Cheese
An ounce of cheese makes a delicious snack that provides about 6 to 8 grams of protein per serving. Those who are lactose-free can opt for aged cheeses like sharp cheddar that contains little if any, lactose.
3. Fruit cup or whole fresh fruit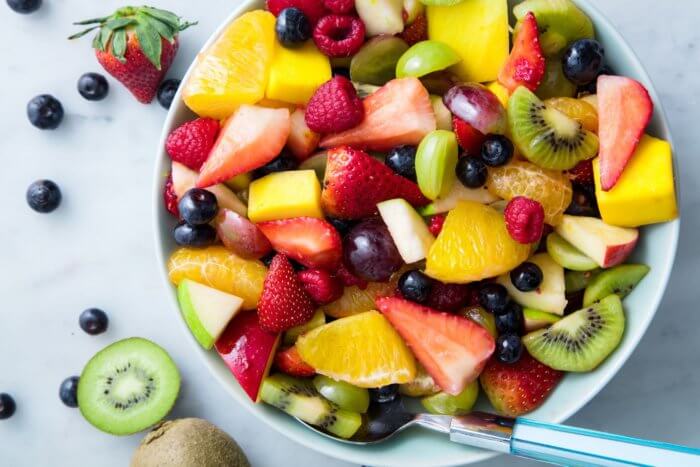 Just wash and rinse some grapes for a safe snack for those on gluten-free, low FODMAP, or high fiber meal plans, to name a few. Other healthy fruit snack options that are also low in carbohydrate include sliced strawberries, raspberries, clementines, or orange slices.
4. Jerky
For a portable protein option, try jerky in its many forms. Just be sure to choose a low sodium option for the healthiest choice. And for those who are meat-free, you can try a seitan jerky product.
5. Nuts or seeds
An ounce of nuts or seeds can provide a crunchy snack option that can fill in the fiber and protein gaps of your lunch meal.
6. Whole grain crackers or chips with salsa or hummus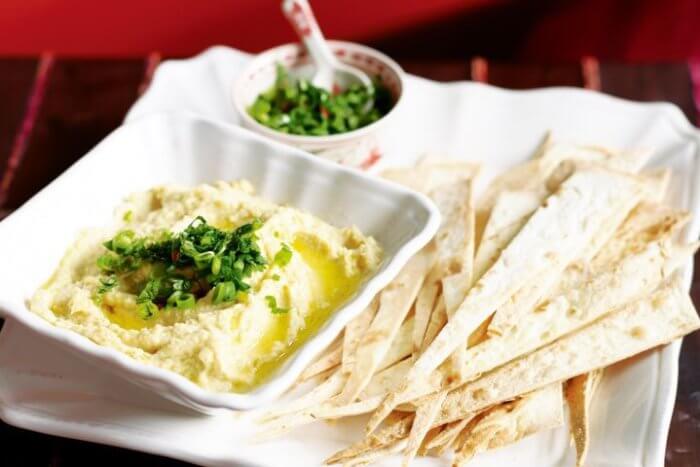 Another crunchy lunch snack option could be whole grain crackers in a one-ounce serving with some fiber-rich chunky vegetable salsa or ¼ cup of nutritious hummus. Gluten-free crackers or corn tortilla chips also pair well with these toppings. Place hummus and salsa in a small snack tub for easy portioning and transport.
7. Baby carrots, sliced bell pepper, carrot sticks, or celery sticks with dip
You can find baby carrots and celery sticks sometimes already prepped and portioned for you in the produce section. And to provide some extra flavor, add a few tablespoons of dip or dressing in a snack tub on the side. Ranch dressing is traditional for a veggie dip but can be high in fat and calories for those trying to cut down on such macros. Therefore, you can use plain Greek yogurt instead. This lower calorie, higher protein option can be seasoned with a sprinkle of your favorite herbs and seasonings like dill, chili pepper, ground black pepper, or garlic powder for a simple and healthy homemade veggie dip option. For those that are dairy-free, use a plain almond milk yogurt for your base instead.
Summary
Eating healthy can be overwhelming at first if you're not sure where to start. You may worry that eating healthy may not be enjoyable, especially if you have a food allergy or intolerance to look out for. Also, you might be afraid that over time you will end up eating the same thing over and over again, which could make your healthy eating plan boring.
But as these ideas show you, healthy eating can be flavorful, and the combinations of healthy creations are limitless. All you must do is keep it simple and be open to trying new foods and new ways of preparing foods. Also, you may have to set aside a bit of time to plan and prepare healthy meals each week or evening. Remember though that the time you set aside to do this will be worth it when you start reaping the benefits of healthy living. Here's to a healthy and happy new year and best of luck with your healthy lifestyle goals.
With so many restaurants around, how do you find one that has food suited to your lifestyle?  Simply tell HowUdish what kind of meals you're looking for and the app finds nearby restaurants with options for you. Download the HowUdish App today!