Your Key To Finding Dishes Suited To Your Lifestyle

SET A GOAL
Input your current and target weights

DEVISE A STRATEGY
Select the dish styles that you're following
FIND HEALTHY EATS
Swipe and save the dishes you like at nearby restaurants

KNOW BEFORE YOU GO
Get detailed nutrition info on dishes that interest you

EXPLORE
Find nearby trending dishes, view profiles, follow your favorite athletes and much more
DISH TOGETHER
Eat out, have fun and stay true to your lifestyle. Meet new people and chat about food & restaurants

ORDER ONLINE
Find a dish you want from the My Dishes list. Order through popular ordering & delivery platforms

KEEP IT SOCIAL
Eat out, have fun and stay on track

PAY IT FORWARD
Rate and report dishes and restaurants

SPONSORED DISHES
HowUdish automatically shows if nearby restaurants have deals on your dish

JOIN THE COMMUNITY
Chat with other HowUdish users and exchange recipes and your favorite dish styles

GET NOTIFICATIONS
Discover healthy dishes nearby and receive special offers

How It Works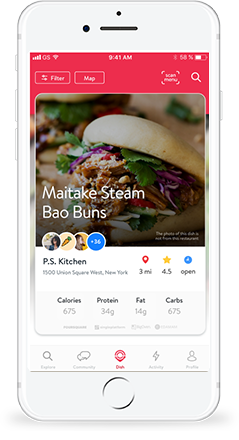 Find a Dish You'll Love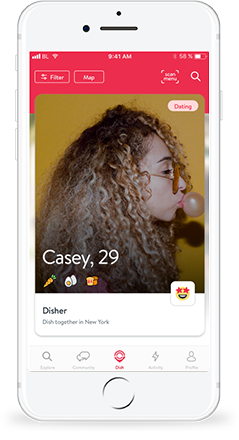 Meet New Friends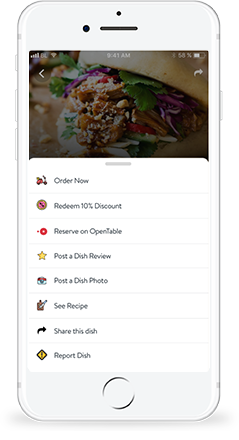 Deals & Discount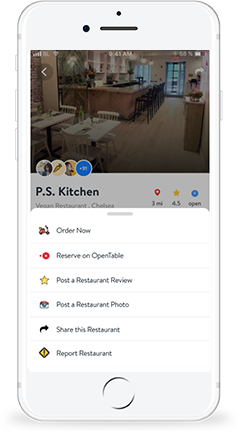 Swipe a Dish, Order Online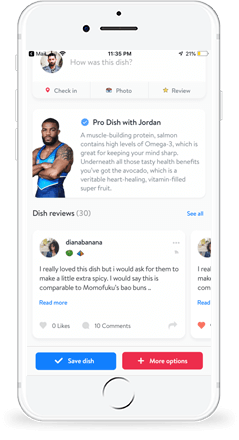 Follow Popular Athletes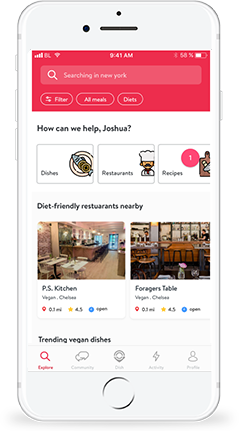 Discover New Restaurants
HowUdish app helps you find dishes suited to your tastes & nutritional lifestyle.
In our biggest update yet, we've added Dish Together! Read reviews and user profiles, then match with HowUdish users. Chat about recipe tips, subscribe to see what top athletes really eat, share restaurants and discuss food & lifestyle. We've also added millions of new dishes to discover!

Save Money
Save money eating at select restaurants with Sponsored Dishes, order food online from local restaurants and join our community to share your favorites.

Find Restaurants
With so many restaurants around, how do you find one that has food suited to your lifestyle? Simply tell HowUdish what kind of meals you're looking for and the app finds nearby restaurants with options for you.

Dishes you love
Use the swipe right feature to tag what you want, swipe left on what you don't, and HowUdish will get even better at showing you restaurants with dishes you'll love.

chat & share
Find a network of friends who share their favorite restaurants that match your nutritional lifestyles. Chat and share the places you love to eat while discovering new favorites and find a meal that matches your lifestyle.